Ipswich Transport Museum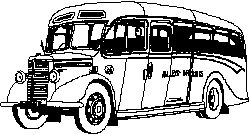 The Ipswich Transport Museum has the largest collection of transport items in Britain devoted to just one town. Everything was either made or used in and around Ipswich, the county town of Suffolk. The collection has been building up since about 1965, click here for a brief history of the Museum.
The collection consists of approximately 85 major exhibits, and numerous smaller items which are all connected with transport in Ipswich. The operation of the Museum is supported by the Friends of the Ipswich Transport Museum organisation.
The Museum is open every Sunday and Bank Holiday from the 2nd April until the 26th November 2006 from 11am - 4:00pm; Easter holiday: Monday 3rd April to Thursday 13th April; Spring Half Term: Tuesday 30th May to Friday June 2nd; Summer holiday: Monday 24th July to Friday 1st September; October Half Term: Monday 23rd October to Friday 27th October
Visit the Transport Museum Website : Find a Hotel Nearby : Location
Events at the Museum in the Next 3 Months:
There are currently no events in the Ipswich area during the next 3 months that we know about.